6 Grosvenor Place, Private Members Club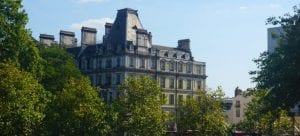 Steeped in history, 6 Grosvenor Place has been home to Sir Henry Campbell-Bannerman, Prime Minster between 1905-1908, afterwards serving as Princess Christian's Hospital during the first world war. Then after becoming The Forum Club in 1919, one of the most successful meeting points for many of the greatest female authors, artists, speakers, public figures and political activists in the country.
Now, the Grade-II listed building in Belgravia is undergoing restoration and redevelopment that will recompensate the historic features it's lost over the years and write itself into history as an exclusive, luxury, mixed private members club. Tricon are thrilled to be working on the large kitchen on the lower ground floor, serving food throughout the building, as well as bars that are a collaboration between Tricon and Interior designers 1508 London, and support pantries on each floor.
Once complete, the Club will seek to connect clientele spanning the fields of business, entrepreneurship, sport and the arts with a strong appeal to women as it once did before.