Design For Life: Tricon featured in Foodservice Equipment Journal
Tricon MD Mike Coldicott was recently featured in Foodservice Equipment Journal following his presentation at The Great Hospitality Show 2017, where he delivered a presentation on the fundamentals of great kitchen design and shared some of his opinions.
Read the whole article below or by visiting the Food Service Equipment Journal website at: DESIGN FOR LIFE
If you hear Mike Coldicott referring to himself and his counterparts as 'translators' or 'interpreters' it's not because they offer a sideline service in helping customers brush up on their French or decipher tricky phrases in Italian.
Their specialist skill involves collating the information they are given, using terminology their clients understand and delivering an outcome that all parties comprehend.
"We get food and beverage operations and we can talk chef language, but then we have this ability to translate and interpret that into building design language and actually deliver a set of drawings and specifications that bring that reality to life," says Coldicott about the art of being a professional foodservice design consultant.
As managing director and principal owner of Tricon Foodservice Consultants, the largest kitchen design consultancy practice in EMEA, there are few better qualified to comment on what it takes to take an idea or list of preferences and transform it into a full-functioning, kitted-out kitchen.
After all, Tricon has delivered projects in as many as 26 different countries, spanning everything from hotels and restaurants to B&I to and sports stadia.
"Pretty much wherever there are food and beverage facilities associated, I have probably designed a kitchen in those environments," says Coldicott.
It's a multi-faceted role: kitchen designers need to work closely with architects, mechanical and electrical services engineers, structural engineers, cost consultants and project managers — and they are expected to have elements of expertise from those disciplines within their make-up.
They must have a basic understanding of planning requirements, know how the architecture of a space works and, increasingly, lead the engineering agenda in terms of ventilation design and utility services. Oh, and they have to do it all within a budget. "It is very easy to design a facility with a blank cheque book, it's actually decidedly harder when you are actually trying to design to a budget, which sometimes can be quite challenging."
The design process
According to Coldicott, it's not hard to find designers out there who will jump into producing a lay-out after a five-minute conversation with a client. But he believes the relationship is set up to fail from the start if the policy is merely to produce lay-out after lay-out until the chef begrudgingly signs it off.
"It is a detailed process that requires a lot of attention and a lot of consideration," he argues. "So whether you are talking to the owner, the chef proprietor or the operator, it is understanding what their objectives are and what they want to achieve. Is it financial, operational, aspirational?
Kitchen designers get it: space costs. real estate is very expensive, but it is more costly if you get it wrong and the kitchen can't deliver what the menu requires" 
That is critical to understanding the fuller process of the design. Clearly, location, wherever we are talking in the world, is quite important because of regulations and local planning legislation. We are very lucky in the UK, we have quite relaxed planning requirements. You go further field and suddenly there are influences that actually dictate the design process which you need to understand upfront."
The nuances of building parameters and constraints will also shape the kitchen design, be they architectural details or the menu and diner profile. Interior styling is a factor, too. "Increasingly we are getting involved in projects with show kitchens, where front-of-house and back-of-house are becoming blended into one, so suddenly it is important to understand the interior styling to actually drive what the detail of the back-of-house looks like," he says.
Supply chain might sound fairly insignificant in the grand scheme of things, but it too can also massively shape the design process in certain circumstances. "We are working on a project at the moment in Sierra Leone, for Hilton Hotels, and there the brief is that we have got to hold food stock for six weeks because they can't get supply chain on a regular, guaranteed basis. They don't know when their next delivery is coming, so suddenly the dry store and the freezer storage is significantly larger than we would typically expect from a project."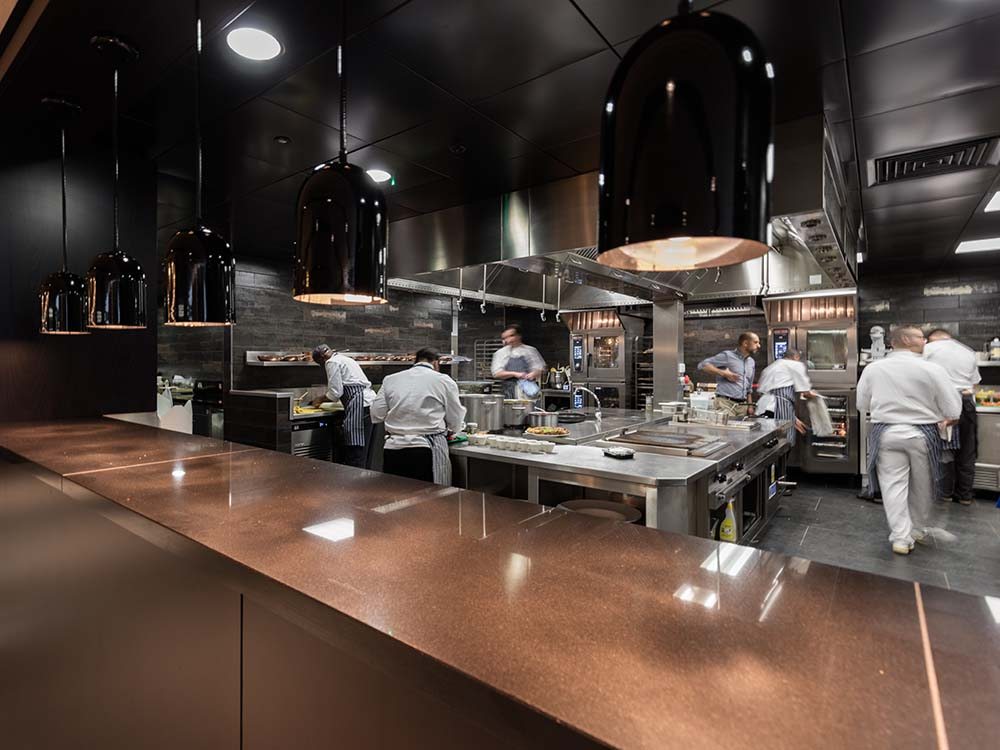 Clearly in the UK that is less of an issue although challenges will always arise. One job that Tricon is doing at the moment, involving a 60-storey tower in Central London, got planning permission based on 300 deliveries a week, even though it will typically need double that. It is therefore looking at a central logistics hub on the outskirts of London that will allow food to be delivered on a consolidated basis. "It is going to be situations like that which drive designs of the future," he says.
Balancing front and back one overwhelming feature of the foodservice industry in the past decade has been the emphasis on optimising front-of-house space as much as possible, leading to a squeeze on kitchen footprints. It's a delicate balance that requires architects and operators to be realistic in their expectations of what a space can generate and produce.
"A good kitchen designer of course appreciates that bums on seats generate the revenue, we are not in the world of designing cavernous kitchens, it has got to be practical and realistic for the space to be able to deliver, but equally if the engine room of the kitchen isn't big enough to support the dining space then it is going to impact on the revenue generation anyway. If you can't deliver the range of menu and the speed of service, your diners aren't going to come back time and time again."
Coldicott recalls a project he was involved in at the Gherkin tower in London, where the architects had originally designed a 240-seat dining room serviced by a "tiny broom cupboard kitchen" in the corner. They wanted to do full fine dining, an la carte menu and their expectations of delivery were exceptionally high.
"What actually happened in reality, through negotiation and explanation, was a more considered version where we dropped to 140 seats," explains Coldicott. "We created a kitchen that was suitable to deliver that high-end menu and actually as a business case it still works. The ROI for creating the right space to deliver the right space absolutely worked in that situation."
We are working on a project at the moment in Sierra Leone, for Hilton Hotels, and there the brief is that we have got to hold food stock for six weeks because they can't get supply chain on a regular, guaranteed basis"
He also cites the example of Gordon Ramsay, who was criticised in the press for using offsite production to serve his gastro pubs. "When you look at it, it actually makes an awful lot of sense. A lot of these sites were very spatially challenging, so to take an element of it and consolidate it offsite was quite a smart exercise. There is not one solution fits all, you've got to consider every site on a site-by-site basis."
Perhaps the best example in terms of illustrating the front- and back-of-house balance is banqueting. If every banqueting hall above 600 or 700 covers were to have a full production kitchen, there wouldn't be any space for anything else in the building. That is where the cook-chill-regeneration model comes in, allowing operators to sweat the assets of other parts of the kitchen on quiet days to be able to deliver on the banqueting days.
"Kitchen designers get it: space costs. Real estate is very expensive, but it is actually more costly if you get it wrong. If the kitchen can't deliver what the menu requires, the diner expectation drops dramatically quickly. It is all about achieving the right balance. Kitchens should be efficient, they shouldn't be spacious. We often talk about 'sweating the space' and getting use of every square metre. You have to make sure it works hard for itself, so there is a return on the investment."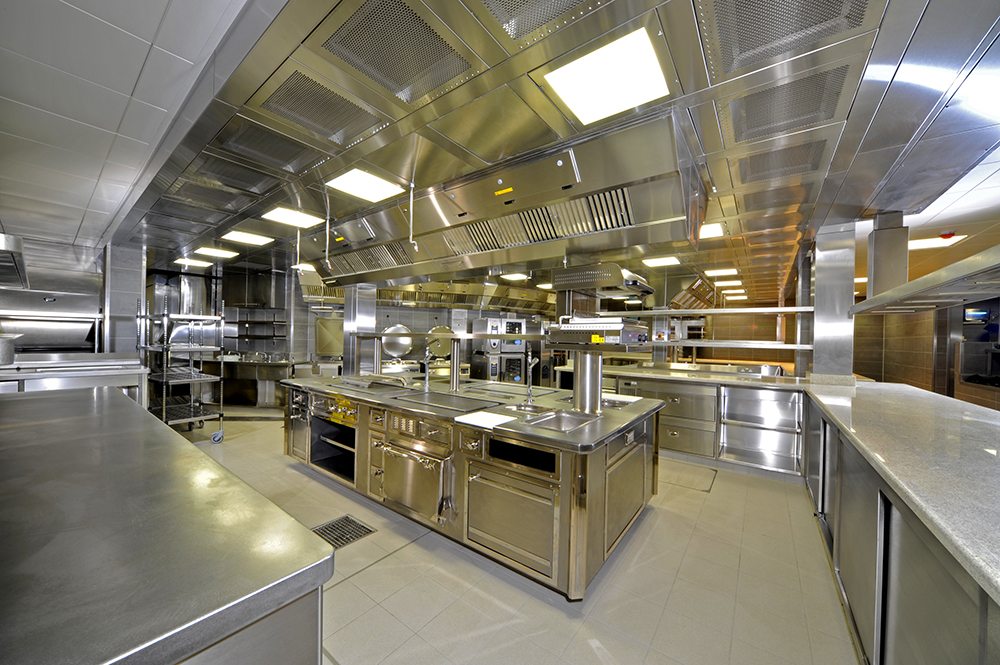 The answers to questions about production are intrinsic to the design of the kitchen. Is the menu delivery geared around fresh production cooking? Is cook-chill or sous vide a consideration? Will there be an on-site bakery or patisserie? Or will it be brought in through artisan suppliers?
Some of the branded hotel chains, meanwhile, have quite specific requirements that must be consistent with their business. The likes of Four Seasons and Ritz Carlton will need chocolate rooms and ice cream rooms, even ice carving rooms in some situations, incorporated into catering designs. "All of this needs to be factored into the space and balanced up against what cost is affordable."
Flow and logistics
When the space has been agreed, the next job for a foodservice design consultant is to work out what sits within it and develop the flow and logistics. The ultimate end-goal is to achieve a single flow that encompasses goods in, storage, preparation, production and then out to service. "This may sound very obvious and basic, but actually too many times it gets forgotten about and not addressed properly," says Coldicott.
A smooth flow ticks two very important boxes: it reduces the potential for cross-contamination and creates efficiencies within the workspace. "You don't want chefs and kitchen porters running around like ants trying to collect everything together, you want this logical flow within the design process," he says.
Creating distinct zones of production for the menu will need to be done in tandem with determining the type of hardware likely to be used, be it a pull order line suite, an island cooking suite or a full brigade working around a central island. On a big resort or campus setting, where multiple food and beverage outlets might be operating, it is about achieving seamless and discreet connectivity behind the scenes, while on a tower construction, getting the food up and the refuse out becomes a critical concern in terms of flow and logistics.
Equipment
While a project will always be defined by its budget and operators don't necessarily want to spend anymore than they have available, a good designer has a responsibility to tell his client that it isn't necessarily all about day-one capital cost. Lifecycle costs are a massive issue now, especially with utility bills heading in only one direction. Catering is traditionally a massive consumer of gas, electricity and water, leading consultants to address these through specification and design.
"The right selection of equipment as part of the design process is critical to achieving some of these goals. It might be that certain things that have a higher premium to pay in terms of capital cost can actually deliver a large saving over a relatively quick period of time. Clients need to be aware of that to make the right informed decision."
He insists there is a huge opportunity to use technology to start hitting some of the energy reduction targets that operators have.
"Heat recovery is big business now, be it cooking equipment, dishwashing equipment, right across the board — there are elements that you can use to reduce your utility usage. On-demand ventilation is not a particularly sexy subject but actually intelligent ventilation canopies that only work when they know the piece of equipment underneath is switched on saves quite considerable air handling volumes, which in turn saves utility. Intelligent thermostat sensors are another thing.
"Historically a thermostat would push the heat through it, hit the temperature that the chef wants and actually go well beyond it, well now you can get equipment that senses when it is getting close to the required temperature and starts to slow down. It reduces the power consumption. And if you want to reduce the radiant heat within a kitchen, look at induction.
"Now if you take the worst example of the large commercial kitchen — 3.4 million kilowatts per hour being used — and you consider that you could potentially generate a saving of up to 30% just by specifying and designing in the right equipment, you are talking about a payback in the realm of tens of thousands of pounds per annum. When you explain it like that, why wouldn't you? It is the responsibility of your designer to provide that information."
When all said and done, a designer's job is about bringing excitement to the space, be it front-of-house, back-of-house or, in this era of TV chefs and theatre kitchens, a combination of the two. The best designers thrive from the chance to bring creativity to a project.
And while Coldicott isn't necessarily advocating that foodservice operators go to the lengths of covering their ventilation canopies in Swarovski crystals — as one client did! — a little bit of imagination and the right attention to detail can go an awful long way.
Talking business: Designing commercial kitchens 
Is there a standard ratio or formula for kitchen size to number of covers? 
If I had a pound for every time I have been asked that question I wouldn't be doing kitchen design! The reality is that every situation is unique. Typically, you could say 40% back-of-house to 60% front-of-house as a very rough rule of thumb. But that is a very generic response, because it is quite specific to each and every detail of the site, as well as the issues of peak and flow.
How much of a challenge does having a separate production kitchen supporting a theatre kitchen create during service?
It is particularly a challenge when they are separated. You have to quite carefully consider replenishment during service so that within the design of whatever that remote island area is, there is sufficient capacity to hold, ideally, a whole service's worth of mise en place so that it's ready for the customer. Invariably you are going to have to do a couple of runs back to the satellite kitchen, but it is trying to do that in a manner that is as discreet as possible. The design of the interior or the layout of the seating can help with that.
What does the future look like for kitchen design?
Kitchens are only going one way — they are getting smaller. I think legislation will become more stringent. Quite frankly in the UK we've become a bit lazy. We used to lead the field in terms of our HACCP and hygiene control. The Middle East now leads the world in terms of driving the standards of kitchen hygiene environments. Then there is this emphasis on really drilling down on the utilities and saving through efficiencies.
What impact is technology having on kitchens?
The equipment in the kitchen is getting more intelligent as a process. There has been a question of whether chefs have pushed back on that for a number of years. But I think that now they are starting to adopt the technology — and as they have become more used to it in their general life — they are now expecting it and demanding it in their kitchen life. That is positive because the foodservice equipment manufacturers are having to respond to that and actually deliver equipment that is more technological in its focus and clever in the way that it delivers and supports what chefs require in the kitchen.
Reproduced with the kind permission of Foodservice Equipment Journal