AHIC: So, what did we learn?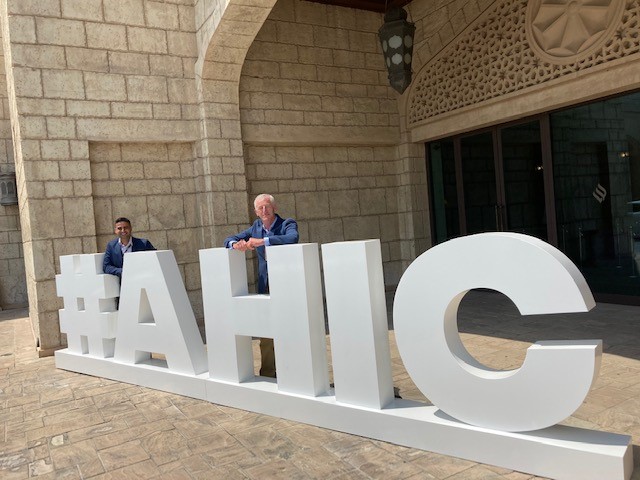 Tricon Foodservice Consultants has been a regular attendee at both the International Hotel Investment Forum (IHIF) Berlin and the Arabian Hotel Investment Conference (AHIC) UAE, for the last fifteen years. The conferences provide a unique opportunity to network with our industry peers and listen to a wide range of presentations and debates about the hotel sector's future. What has been enlightening, over time, is the emergence of F&B as a key topic. When we first started attending, F&B received barely a mention. Now, on AHIC's first day, via the Global Restaurant Investment Forum (GRIF) it's all about F&B. So, what did we observe and learn?
The subject that opened many a conversation was of course the impact of COVID-19 across the hotel sector and the wider hospitality industry. Many industry colleagues were interested to hear about how Tricon has been working with clients, and professional design teams, on the challenges for F&B design post-COVID. Much of our focus has been on both back and front of house F&B areas, to identify how we can evolve and improve HACCP & kitchen and laundry design standards in response to COVID-19 and future viral/bacterial developments. This work revolved around logistics, personal hygiene, air & surface sanitising, UV extraction and ventilation, electrolysed/Sao water systems, temperature monitoring systems, mitigating touch and recommendations for floor, wall & ceiling finishes, and equipment flexibility. We also expect to see a much greater use of integrated technology to support and, to some extent, drive catering operations. The use of mobile apps to communicate nutritional or dietary information as well as for pre-ordering, payment, click and collect/deliver was already available pre-COVID, but whereas its use was often viewed as a bolt-on to core services, moving forward technology will, we believe, be a core component.
The recent COVID pandemic has made the world population more aware of their overall health and fitness levels, with more and more individuals becoming active and conscious about what they consume daily. Over the past 5-10 years, mocktails have taken off around the globe with operators looking at giving Gen Z their nutritional boost in what seems to be luxury mocktails, or booster shots of ginger and turmeric mixes. How does this affect us at Tricon when designing our projects? Simply put, a challenge well accepted. Working with mixologists from around the world, we are constantly developing new ideas on how to reduce capital cost, yet increase ROIs for our clients, by creating a journey behind the mocktail recipe and elevating the guest experience.
On the final day of the conference, we were delighted to be invited by Hilton to attend the closing lunch held at the Waldorf Astoria, DIFC. The lunch was based around a celebration of the UAE's food, produce and chefs. With recent global disruptions to food chains, there is now a greater emphasis to buying from local suppliers. This also goes hand in hand with the trend for more specialised concepts of highly localised cuisines, from different parts of the world, but also utilising produce from a very specific area. One of the key elements for the UAE is the plan to build a100,000 ft² vertical farm, that will grow thousands of tonnes of produce annually and will supply hotels and chefs across the Emirates.
>With the hospitality sector back on the rise, countries lifting various restrictions, venues operating at 100% capacity, the biggest challenge now is the lack of talented skills in the market. The question is, is this short or long term? The shortage of such talent in the F&B industry is increasing the hiring cost, up to 30% [Arabian Business, 2021], and with an ever-mature F&B market, highly skilled talent is the key to a venue's success. AHIC allowed us to gain an insight to how the hotel and restaurant operators are putting in extensive training, and strategy plans, to ensure optimal work environment safety and sanitization, as this is becoming equally as important as compensation and benefits when employees are evaluating an employer.
COVID-19 had everyone on their heels, with hotels, restaurants and other F&B operators reverting to AI with QR codes for room bookings, in-dining ordering, menus, and bill payment. This change in the accommodation and F&B scene challenged all operators to tweak their business models and adapt to what the consumer was looking for. Has this contributed to the potential lack of talented skills, and diverted our face-to-face experience to a more mundane night out, or even lack of going out, as families and individuals are opting for the luxuries in their own four walls? Luckily not everywhere, as throughout the days at AHIC we got to see how various operators have planned for the "re-launch" of their venues, and strategies they have in place, to bring back that vital guest experience by ensuring all safety measures are in place, so guests do feel comfortable to venture back out.
We are looking forward to supporting IHIF and AHIC again this year. As we emerge from a couple of years of muted conference seasons, the return to destination holidays rather than staycations and business travel; it will be fascinating to see what 'lock-down' food, operational and technology trends continue and what new ones emerge.